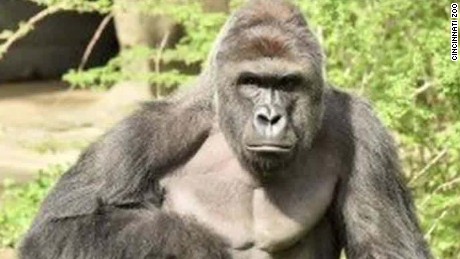 (CNN)The death of Harambe, the 17-year-old silverback gorilla who was shot at the Cincinnati Zoo after a boy slipped into his enclosure, has made headlines around the world. I hope that with those headlines comes some reflection among members of the public, starting with the message of his name. I truly believe in the message contained in that name — because I was the one who chose it.
When I entered the baby gorilla naming contest in 1999, I somehow knew the name Harambe would be the one that was chosen. It came to me one day while I was on my treadmill listening to some music. A song by Rita Marley, "Harambe," came on. It was a live performance recording from a Bob Marley Tribute concert in Central Park. Halfway through the song, Marley explained what Harambe means. It's a Swahaili name meaning working together, pulling together, helping each other, caring, and sharing. I remember thinking what a cool word it was and that I should share it with my students.
Over the years, our two sons and four nephews grew up as Harambe did. We were all regular visitors to the zoo, where we spent a lot of time observing and watching him get bigger. In fact, the family was so fond of Harambe that he was affectionately referred to as my adopted son.
All my students have learned about the baby gorilla I named, and we took countless school field trips to the zoo to see Harambe. I incorporated Harambe and the meaning of his name into my lessons, where I would discuss concepts like compassion, cooperation and tolerance. I worked at Gonzalez Elementary for 11 years, and pretty much every student who came through the school knew Harambe and what his name meant.
A few years ago, at a Zoofari fundraiser at the Gladys Porter Zoo, my brother-in-law was the winning bidder at an auction of a painting done by Harambe. Shortly after that, I got word that Harambe had been moved to the Cincinnati Zoo. I was disappointed as I knew that going to the zoo just wasn't going to be the same. Upon learning of his death this week, my wife, sons, nephews, students and family members were deeply saddened. But despite this sadness, I am also hopeful.
Harambe's name — and even his death — can serve as a lesson for all of us. The truth is, human beings have become distant from nature, and increasingly from each other. But Harambe's name can be a reminder for all of us to work together, pull together, help each other, share, and care not just for each other, but for all of God's creations.
From a personal perspective, I hope Harambe's remains can be returned to his homeland in Africa. But I am optimistic that even this won't be the end of Harambe's story. Instead, I hope that the headlines and discussion of what happened will help increase awareness of — and
perhaps fundraising efforts for
— the endangered African lowland gorillas still in their native habitat.
If Harambe's message can reach even more people over the coming weeks and months, then perhaps more can be done to ensure that one day, we won't have to resort to raising these great creatures in captivity to help ensure the species' survival.
Read more: http://www.cnn.com/2016/05/31/opinions/harambe-death-meaning-coppenolle/index.html