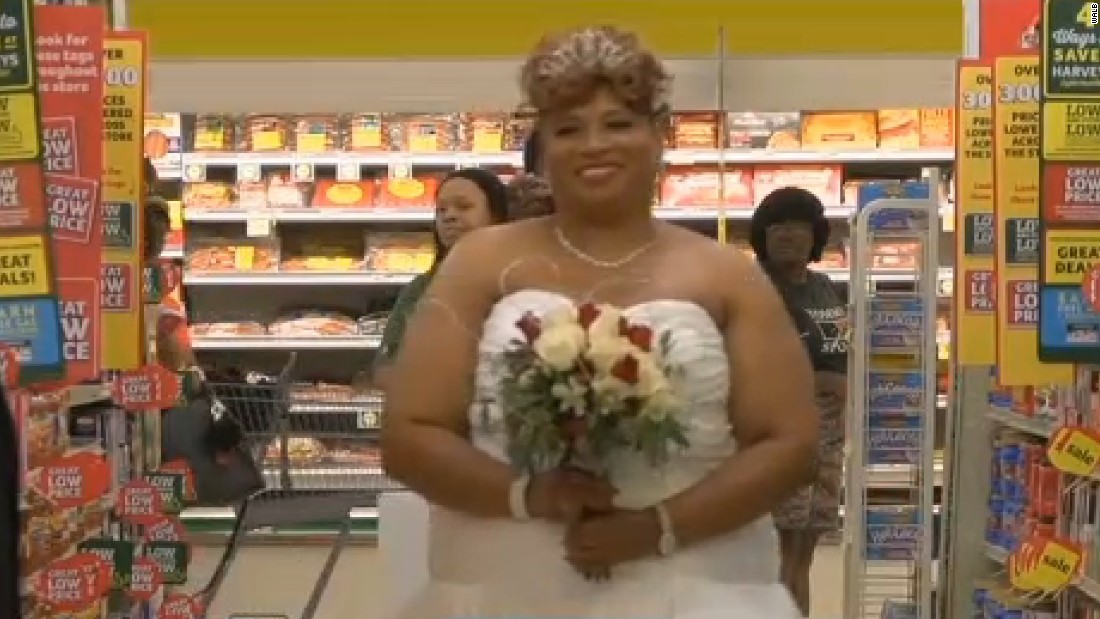 (CNN)Couples have gotten married in all kinds of wacky venues — restaurants, racetracks, even a shark tank. So why not throw a grocery store into the mix?
That's where Larry and Mary Tinson held their nuptials last week, in an Albany, Georgia, supermarket that holds special significance for them — it's where their romance began.
Four years ago, Larry Tinson, just back from a tour in Afghanistan, stopped by Harvey's Supermarket to grab some cranberry sauce for Thanksgiving dinner when something else caught his eye — Mary.
"I heard someone say 'Hey girl' and I turned around and said 'Oh my God, Larry? I haven't seen you in over 20-something years," Mary Tinson told
CNN affiliate WALB
.
The two had met a few times before, but it wasn't until that fateful day in the grocery store aisle that things turned romantic.
Fast forward to 2016. The two lovebirds are looking for a place to get married and decide Harvey's is the natural choice. The folks at the supermarket were thrilled to help.
"We are extremely excited to be part of this special day," Ken Wicker, vice president of operations at Harvey's, told WALB. "To our knowledge this is the first time we've ever had a real wedding in one of our supermarkets."
Harvey's helped the Tinsons plan their big day, including helping line up the live music and getting them a wedding cake topped with — what else? — cranberries.
And the wedding was held on Thanksgiving Day, since Thanksgiving dinner is what drove Larry to the supermarket in the first place.
Read more: http://www.cnn.com/2016/11/28/health/grocery-store-wedding-trnd/index.html