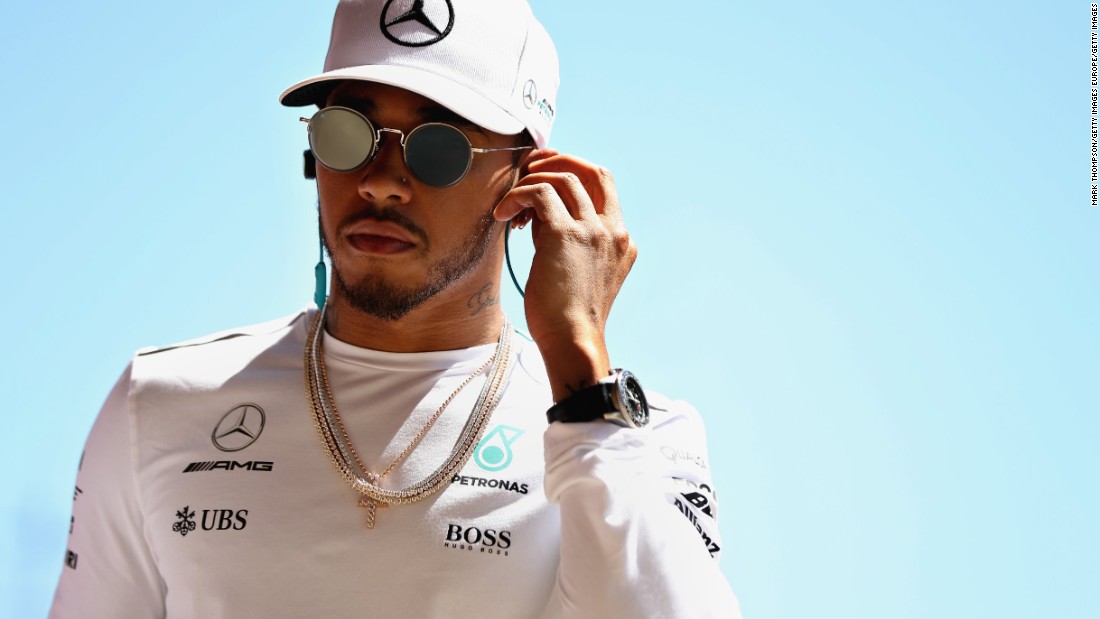 (CNN)"No one else is going to do it for me, that's for sure."
That throwaway comment during an interview with CNN's Talk Asia might as well be Lewis Hamilton's mantra.
One of the fastest drivers of his generation, the three-time Formula One champion has always been a go getter.
During his decade-long professional career, first with McLaren and now Mercedes, the British racing hero has dominated the circuit, being dubbed "Il Phenomeno" — the Phenomenon — in Italy.
Much like David Beckham in the soccer world, Hamilton has become a celebrity outside his sport, often being snapped in the front row at fashion week and on the red carpet of film premieres — and he's also dated a high-profile pop star, Nicole Scherzinger of the Pussycat Dolls.
Hamilton's celebrity has landed him lucrative endorsement deals with L'Oreal, Bose and Puma.
It's that notoriety off the track — Brand Hamilton, if you will — that the 32 year old is hoping to capitalize on as he starts to prepare for life after Formula One.
Beating the odds
Born in Stevenage, in the United Kingdom, Hamilton declared he wanted to be a Formula One driver aged six years old.
It was an ambitious statement, especially for a child from humble beginnings. But from his experiments racing remote-control cars to his later prowess in go-karting, Hamilton's talent was obvious from the start.
Today he makes Formula One wins looking easy — Hamilton famously finished on the podium for the first nine races of his first season — but his route into the sport was anything but plain sailing.
"What keeps me motivated is I think in the back of my mind just how hard my parents worked," he tells Talk Asia.
"My dad having four jobs, my step-mom giving up all her money. Every bit of her income went into my racing so that's a huge commitment, particularly for a woman who is coming in and that's not actually your son.
"To devote your life and your earnings, your hard work, to help a youngster go somewhere."
Every Dad can be a #SuperDad. Leading up to this Father's Day, I am celebrating my own Dad and his unwavering support and belief in my dreams, from Karate to Karting to F1. Join me in supporting @unicef and share your #SuperDad moment using the hashtag #EarlyMomentsMatter on June 18th.
Money wasn't the only barrier to entering this notoriously expensive sport. Hamilton looked different to many other British drivers.
"Well, we were the only black family that had ever been … in motor racing at the time. In my 23 years of racing, we never came across another black family," he says.
Today, Hamilton can laugh about his struggle to break into the business, comparing his journey to the plot in "Cool Runnings" — a film about an underdog Jamaican bobsled team.
"There's a scene when they first arrive at the top of the hill. They pull off their crap sled, which was exactly like mine and my dad's go-kart. Everyone (used to be) looking at us like: 'What the hell are they doing here?' It was exactly like that movie."
He pauses.
"But we showed up and outperformed people."
The Hamilton brand
Hamilton made his Grand Prix debut with Formula One in 2007. Just 22 years old, he narrowly missed out on winning the title — but his performance got everyone's attention.
The next year, he became the youngest driver to win the Formula One World Championship, and he went on to win two more world titles in 2014 and 2015.
But today Hamilton recognizes the need to look past the driver's seat, and think about his long-term future.
"Formula One will one day stop and when I do stop, what is there beyond? The only thing I have beyond is my brand."
The power of his brand is evident just from looking at his
Instagram
and
Twitter
pages, which boast around 4.5 million followers each — clearly, from the profile pages of some of the accounts that follow him, these are not just fans from the racing world.
On his tour of China in April,ahead of the Shanghai Grand Prix — which he won — crowds of male and female fans waited hours for just a glimpse of the auto racer in Beijing.
"I've got such a great fan base out here. A bunch of fans have come here, they are the hotel, at the airport … they know where you are going before you even know where you're going so I wanted to come and see them.
"One of them I met last night, she just had a baby — and she named him Lewis."
Life after racing
As for what Hamilton will be moving on to — fashion, acting, music? — it's too early to tell. His racing career, after all, is far from over.
But there is one area he is determined to pursue.
"Kids are really … at the deep-rooted heart for me," he says. "Whether it's underprivileged kids in certain rural areas, for example like here (in China), who perhaps won't have the chance to get out to do something spectacular, or whether it is in sport, or whatever it is.
"Education is a huge, huge area that needs to be attacked around the world, particularly in third-world countries."
At the end of the day, for Hamilton, it is about making a difference in the world.
"I feel like when I stop, when I'm at the Pearly Gates one day, I want to be able to say I helped these guys or I encouraged these guys to do something.
"I was part of something that helped the world — it's cool to be able to give something back".
Read more: http://www.cnn.com/2017/06/29/asia/lewis-hamilton-talk-asia/index.html