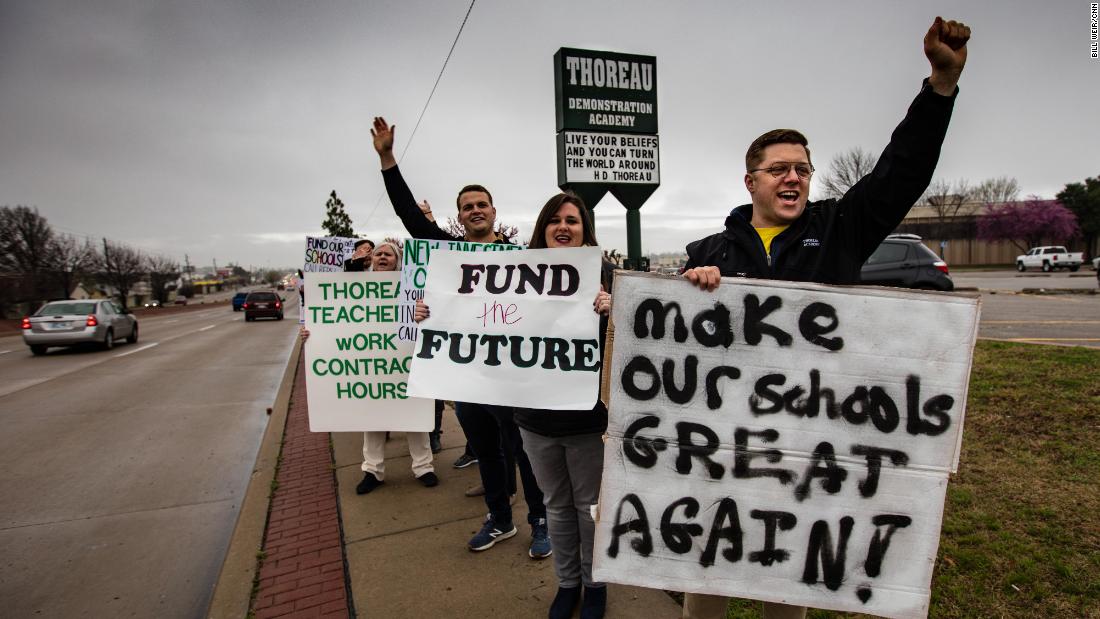 (CNN)On Monday, more than 200 schools across Oklahoma were shuttered as hundreds of public school teachers protested the lack of education funds allocated by the Republican-controlled legislature and Gov. Mary Fallin. The walkout, which teachers were pledging could continue for days if their demands for more money for schools were not met, comes less than a week after state legislators passed an emergency pay increase for teachers in hopes of quelling the looming confrontation.
Cillizza: Walk me through how we got here.
Felder
: Educator frustration in Oklahoma has been growing for years as public school funding has not kept pace with student growth. Add in the fact that
Oklahoma teachers have some of the lowest average salaries in the nation
— and many districts in neighboring states, like Texas, can offer a substantial raise — and teachers have been voicing their concerns for years.
There are nearly 2,000 emergency certified teachers in use across the state, when just five years ago the number was below 35. Principals have said that filling some positions has become impossible, especially in rural communities.
Teachers held a massive rally at the state Capitol in 2014, dozens of teachers ran for state office in 2016, and there was an unsuccessful effort two years ago to pass a statewide sales tax to fund a pay raise.
Cillizza: The state legislature passed a bill last week that increased teacher salaries. So, why are the protests ongoing?
Felder: Last week's pay raise of around $6,000 (on average) will do a lot to change Oklahoma's status as one of the lowest paying for teachers. However, teachers said not enough was done to reverse decades of school funding cuts, which have totaled around $200 million since 2008. The Legislature did approve some textbook funding, but it only increased general school funding by around $18 million.
Teachers at the Capitol on Monday are protesting for more school funding. In fact, I haven't heard much of anything about teacher pay. Teachers say their classrooms are in need of new technology and new furniture. School leaders have had to cut art and music programs, and many schools have lost support staff, which comes out of the general budget.
Cillizza: How much has this issue split on party lines? The state is so Republican it's sort of hard to imagine this happening.
Felder: The wild card in Oklahoma is that for any tax increase to pass in the legislature it requires a three-fourths supermajority. For example, that means 76 "yes" votes in the House. Republicans hold 72 seats, so they need Democrats. Even when a majority of Republicans were willing to raise taxes this year, Democrats took advantage of the little power they have and demanded more.
Last week's vote included bipartisan support but it was still a painful vote for many Republicans. This is an election year and primaries are in June. So you have many Republicans who will have to defend a vote to increase taxes back home. However, I think the majority of Oklahoma voters were at a point where they believed something had to be done. This is still an anti-tax state in many ways, but even the most conservative parts of Oklahoma have been hit hard by school funding cuts, especially in rural communities.
Cillizza: Finish this sentence: "This will resolve itself _______." Now, explain
Felder: "When the Legislature provides a substantial funding increase for public schools."
It's hard to say how much funding it would take to please educators, but my guess is it has to at least be $100 million. Getting the legislature to increase any more taxes will be a tough task, but there are a few proposals on the table, including an end to the capital gains tax deduction and approving ball and dice gaming at casinos.
Read more: https://www.cnn.com/2018/04/02/politics/oklahoma-state-capitol-rally-strike/index.html