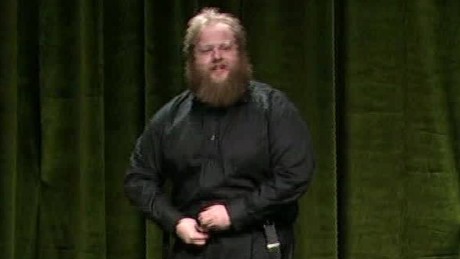 (CNN)The Libertarian Party convention caught the attention of a lot of people this weekend, and not just because the party was choosing its presidential ticket.
James Weeks, who was running to be the party chairman, took to the stage in Orlando and performed a striptease.
Yes, a striptease.
"We could use a little bit of fun," Weeks told the crowd as well as viewers tuned into C-SPAN, which broadcast the convention.
Weeks played music on his phone as he took off his badges and encouraged the crowd to clap. Scattered cheers were the best he got –and that was before it was clear what he was up to.
Things went south pretty quickly when he removed his suspenders and tie. By the time he ripped his shirt off, the crowd erupted into loud boos.
"Sorry, that was a dare," Weeks said. "I'm gonna go ahead and drop out."
The convention mostly made headlines for selecting former New Mexico Gov. Gary Johnson to head the party's presidential ticket with ex-Massachusetts Gov. William Weld as his running mate, but some observers noted that Weeks' stunt could have a negative effect on the party.
Weeks hails from Michigan, where "he has dedicated his life to achieving a free society,"
his website says
.
Read more: http://www.cnn.com/2016/05/30/politics/james-weeks-libertarian-convention/index.html